These three stars Varun Dhawan, Saif Ali Khan and Karan Johar had put up an act on the eve of IIFA about nepotism against Kangana Ranaut. The statement which led to this act was of Kagana Ranaut, when she had called Karan Johar as the flag bearer of Nepotism on his world renowned show Koffee With Karan.
On the night of IIFA awards, the trio sarcastically made fun of the undisputed queen of Bollywood. It appears that Karan Johar found it difficult to settle down with the accusation, hence prepared this act of "Nepotism rocks" in IIFA 2017. The three of them made Sarcastic jibe of Kangana in an inappropriate manner, and have now apologized on different platforms to the actress, who stays away from social networking and is ignoring their apologies.
People reached in a negative way the act. Varun Dhawan sensed the negativity toward the act and hence apologized from his social platform without mentioning the actress.
Karan Johar realized soon that he had carried out a foolish act and cleared out his part by saying, he doesn't support Nepotism, he believes in talent! If anything that can rule is talent, dedication, hard work and conviction. He cleared out that whatever they said was meant for fun purpose, which he feels is being misjudged and misunderstood. He regrets that it went on a wrong track.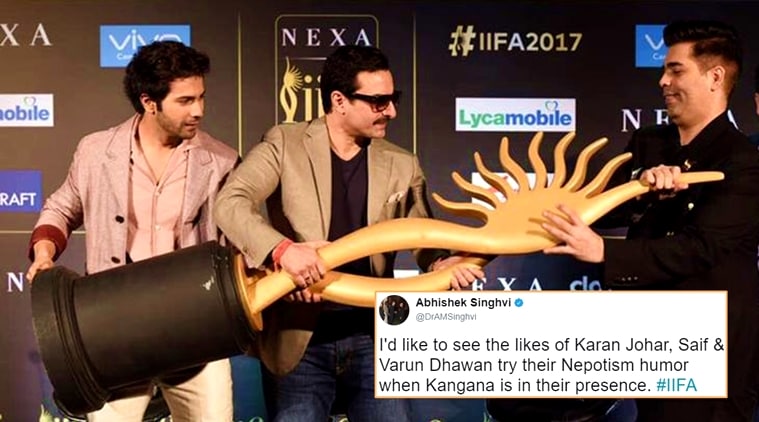 On the other hand, Saif Ali Khan stated that he respects Kangana tremendously for what she's achieved and understand what Kangana means by her stance on nepotism.
Kangana Ranaut hasn't commented yet.
(Visited 7 times, 1 visits today)