TYM's Guide To Style Crop Top Without Showing Stomach
Crop tops have been ruling the fashion arena. They are extremely chic and stylish and if you wear them just…
---
Crop tops have been ruling the fashion arena. They are extremely chic and stylish and if you wear them just the right way, you will surely make head turns wherever you go. However wearing crop tops might reveal your tummy slightly and this makes lot of women apprehensive about wearing them in public places. Well, if you like crop tops and have been shying away for this very reason, you have just landed yourself at the right place. We at TYM present you a perfect style guide to wear crop tops without revealing tummy, and you are certainly going to love it.
[the_ad id="23906″]
1. Crop Top with High Waist Pants –
We know that high waist pants have again come up on fashion horizon. The perfect way to style your crop top without showing off your skin is to team it up with a high waist pants. To add on to your glam quotient, accessorize it with a smart and trendy belt. The combination of all black is truly classic and will make you look effortlessly cool.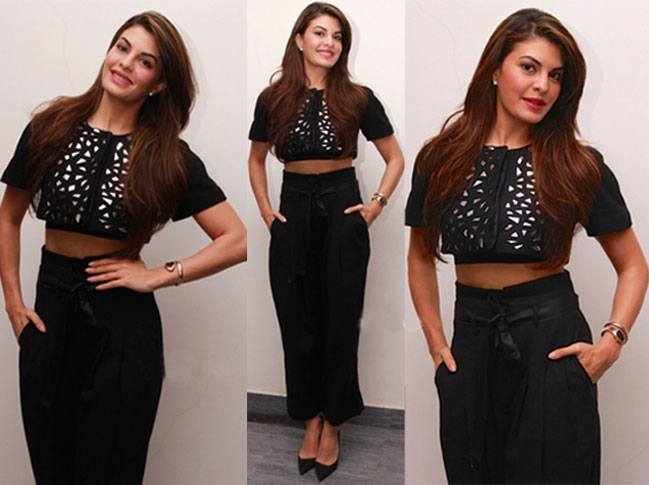 2. Layer it Well –
If you do not like showing off your skin and still want to wear crop top, this styling is ideal for you. Layer a contrast colored blouse under your crop top and team it with a knee length skirt. When selecting your under-layer ensure that the fabric is relatively thin to avoid adding unwanted bulk.
3. Crop Top with Wide-Leg Trousers –
Wide-Leg trousers are the next cool thing after crop top. Pair them together to become a fashionista without much ado. Wear your crop top with any bold color pants and accessorize with a statement neckpiece.
4. The Peek-A-Boo Look
This look is for the girl with a sense of panache. Pair your crop top with cool one-sided dungarees. This look will cover your tummy while revealing just a side of your skin.
5. Crop Top with Lehenga
This makes a perfect attire for any wedding functions in the family. Pairing your crop top with high-waist lehenga covers your tummy completely. Glam up your outfit with glittering jewelry. TYM's style guru recommends wearing full sleeve crop tips with lehenga to look stunning.
6. Crop top with Jackets
If you want to wear crop and not want to show off your skin either, wearing a jacket or blazer over it will do the needful. This added layer will aptly tone down your crop top and makes a perfect outfit for any occasion.
These stylish combinations of crop top will make you look hot and attractive without showing your belly flab.
Try these super sexy looks next time when you step out and don't forget to share your experience with us.
Cover Image: Source
(Visited 416 times, 1 visits today)