Top 10 Holi Songs that set you Grooving
With Holi just rounding the corner, everyone is gearing up to celebrate this festival of colors. It is one of…
---
With Holi just rounding the corner, everyone is gearing up to celebrate this festival of colors. It is one of the popular Hindu festivals that is enjoyed by one and all. Thinking of Holi, the first thoughts that comes to our mind are colors (only herbal ones), Bhaang (just not too much) and not-to-forget naach-gaana. Holi celebration is incomplete without the quirky tunes that give couples the chance to flirt. Take a look at our favorite Holi songs from Bollywood that set you grooving (even for the non-shakers).
1. 'Rang Barse'
This is an all-time favourite that continues to rule the charts. Sung by Amitabh Bachchan this song from the movie 'Silsila' is enough to tickle your naughty instinct. Any Holi party is incomplete without playing 'Rang Barse' and therefore remains as the number one choice.
2. 'Balam Pichkari'
'Balam Pichkari' is the modern version of 'Rang Barse' and instantly gets the young crowd swooning. This song is from the movie 'Yeh Jawani Hai Deewani' released in 2013 and features Ranbir Kapoor and Deepika Padukone.
3. 'Do me a Favor'        
This is an ultimate number from the movie 'Waqt' that sets the ultimate vibe for Holi. The song features Akshay Kumar and Priyanka Chopra. It gives singles a perfect opportunity to ask their beloved to join-in the Holi celebrations.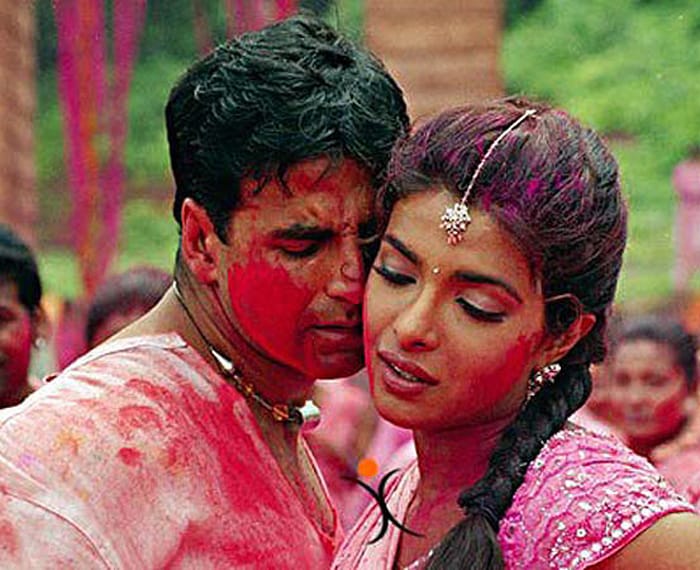 4. 'Aaj na Chhodenge'
A classic Holi number from Bollywood that still remains close to our heart. Taken from the movie 'Kati Patang' this song features the ever-green Rajesh Khanna who weaves magic in this song with his subtle dance movements.
5. 'Holi ke Din'
This song from the movie 'Sholay' aptly describes the true spirit of Holi. This track is a must-include in your Holi playlist and is enjoyed by all.
6. 'Ang se Ang'
A flirtiest Holi number from the movie 'Darr' released in 1993. The sizzling chemistry between Sunny Deol and Juhi Chawla makes this an evergreen Holi song.
7. 'Holi Khele Raghuveera'
You cannot miss out on this track from the movie 'Baghbaan' when listing down the top 10 Holi tracks from Bollywood. The awesome lyric from Sameer coupled with the 'Bhojpuri' words is enough to take your spirits to the nest level.
8. 'Jai Jai Shiv Shankar'
Holi celebrations are incomplete without Bhaang and this track celebrates this true essence of Holi. Taken from the movie 'Aap ki Kasam' this song was an instant hit.
9. 'Chhaan ke Mohalla'
An all-time favourite Holi track from the movie 'Action Replay'. The expressions and dancing style of Aishwarya Rai Bachchan adds more punch to the Holi celebrations.
10. 'Badri ki Dulhania'
This is the newest entry to the list of Holi songs. The sizzling chemistry between Varun Dhawan and Alia Bhatt together with their unmatched energy is enough to make you feet tap and dance right away.
These awesome Holi tracks make the festival more enjoyable and memorable. What's your favourite pick, do mention in the comment.
(Visited 109 times, 1 visits today)