This is How it Feels to Travel in Maharaja Express
Maharaja Express is one-of-its-kind luxury trains of India that promises an enchanting and extravagant travel experiences to travelers. The journey…
---
Maharaja Express is one-of-its-kind luxury trains of India that promises an enchanting and extravagant travel experiences to travelers. The journey of giving a palatial experience on wheels started in the year 2010, and since then Maharaja Express has won countless accolades and awards for its world-class services and hospitality. It even bagged the title of being 'The World's Leading Luxury Train' three years in a row.

Maharaja Express is currently operating on 5-circuits and covers nearly 12 destinations spanning the northern, western and central regions of India. All through the journey, passengers on board are bestowed with state-of-art-facilities, in fact, there is nothing that cannot be availed on Maharaja Express. Read on to know how it feels traveling on this luxury train of Asia for a unique experience that cannot be complete expresses in words.
1. Maharaja Express with its beautifully adorned coaches surely gives a heavenly experience. The intricate décor of the carriages is a perfect blend of magnificence and lavishness.
2. Travelling in Maharaja Express gives you the feeling of living a life of a queen or king (even though not by blood) through the entire leg of the journey. There is no service that cannot be availed on this wonder on wheels right from Wifi to Satellite Channels.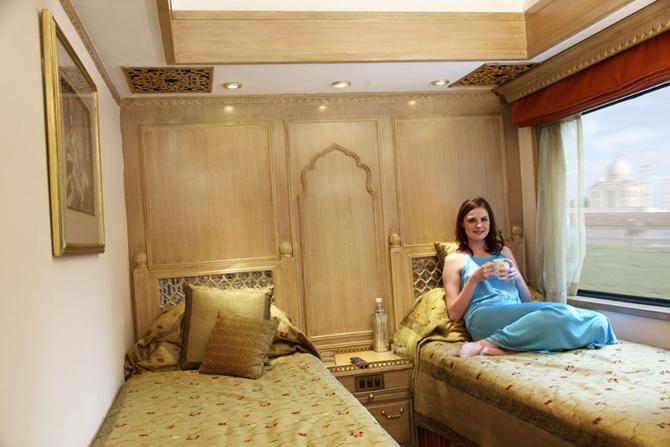 3. The dining experience in Maharaja Express even surpasses the experience in dining in any 7-star restaurant across the world. The delightful selection of cuisines right from authentic Indian to Chinese and Oriental is enough to satiate your food cravings. Their dedicated team of experts chefs and kitchen staff ensure to provide guests an unparalleled culinary experience.
4. The Maharaja Express gives you the tour of the real India. The panoramic view of the landscapes will surely mesmerize you. Looking out of the window you can catch a glimpse of many colors of India.
5. Travelling in Maharaja Express gives you a royal experience. They stand by the motto 'atithi devo bhava' and this grand journey of royalty starts with a red carpet welcome by the courteous staff, who ensure that their guests have an extremely comfortable experience throughout the journey.
Luxury and royalty aptly describe the traveling experience on Maharaja Express. If you still haven't boarded the train, you are missing out something that is worth experiencing. Get on board to this mystical journey of discovering the Incredible India on this majestic luxury on wheels!
Article Images: 
Source
(Visited 46 times, 1 visits today)