A gay couple Jahed Choudhary, 24 and Sean Rogan, 19 married each other in the UK. They tied the knot at the Walsall registry office.  The couple shared their story, which is quite interesting. They met each other for the first time when Jahed was crying on a bench. The mosque, according to the Muslim regulations had rejected him after getting to know that he wasn't like others, he was a gay!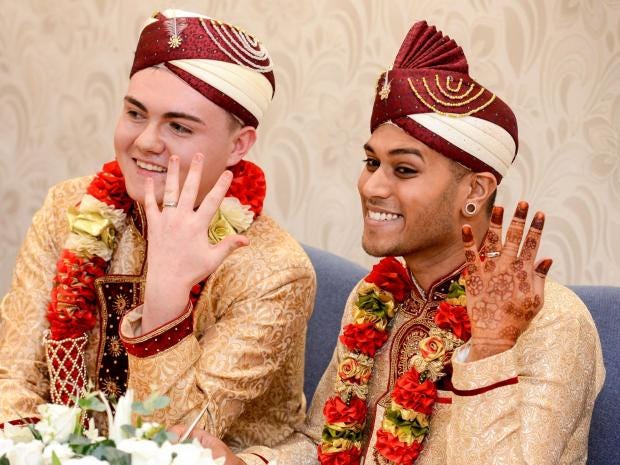 According to the Express and Star, Choudhary said: "I'd not long overdosed and I was crying on a bench and Sean came over and asked if I was okay. He gave me hope at one of my lowest points and he's stood by me all the way."
Jahed shared that he didn't find football interesting like other boys, he preferred watching fashion shows on the television. He was mistreated ever since his childhood.
Jahed has seeped so much into a depression that he wanted to kill himself, but he met Sean at the right time. Choudhary confessed that he proposed Sean on his birthday last year and were in a relationship since then. They plan to spend their holidays in Spain and then host a party for their friends in Darlaston.
Being a source of motivation for the other people in the same situation he said that, "I want to say to all people going through the same thing that's it's okay, we're going to show the whole world that you can be gay and Muslim."
Uk is on the streak on breaking all the social prejudices as a few days back a British man gave birth to a baby girl and now the first ever Muslim gay wedding!