5 Things that justify the phrase 'Men are from Mars and Women are from Venus'
'Adam' and 'Eve' were the greatest creation of God but even the Almighty could not fathom how they contradicted each…
---
'Adam' and 'Eve' were the greatest creation of God but even the Almighty could not fathom how they contradicted each other so starkly. History has been a witness how men and women find it difficult to 'get along' with each other. It is not surprising that both of these sexes consider each other downright crazy. These 'mis'understandings made us believe the theory 'Men are absolutely from Mars and Women are absolutely from Venus'. This post justifies this statement by presenting 5 facts that prove why men and women behave differently.
1. Women are friendlier than men –
While a woman will have a lot of friends in her social circle, men like to limit it to just a few numbers. Same is the effect on social media. While women tend to share their darkest secrets with her girlfriends, men prefer to limit their friendship to just social meetings like drink, golf or ski.
2. They behave differently when under stress –
Stress has become an indispensable part of our lives. How you deal with stress is different for men and women. Under stress women seek companionship and empathy. They find solace in discussing their problems with their mates while men prefer to deal with their problems alone. During the times of stress, they tend to disconnect with the world.
3. For men food is food but for women food implies taste –
To put it precisely, taste is another facet that is looked upon differently by men and women, with latter having a mastery over it. Men can gorge on food without dwelling about the befitting taste of that particular dish, whereas for women food is all about aesthetics and taste. No wonder that women tend to have more taste buds on their tongue.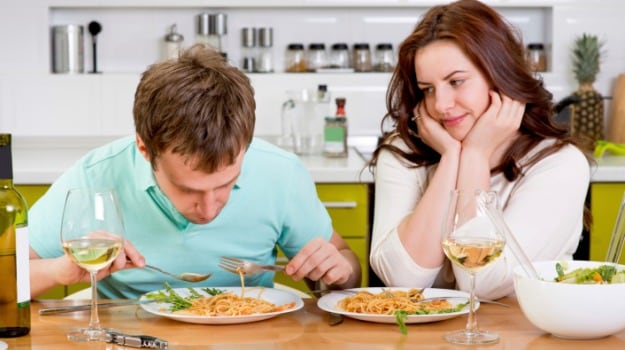 4. When it comes to getting ready –
This one is surely classic. While women are always perplexed with the question 'what to wear' men find it quite easy to deal with. You cannot miss to mention that women are always short of clothes when they are getting ready and men seem to be utterly satisfied with their closets.
5. Women can smell alcohol better than men –
A woman's sense of smell is extremely good and that's something men find it difficult to deal with. No matter you had 1-2 glass of your favourite whiskey and rushed home to meet your beloved, she can just sense a pungent odour of liquor.
It would be foolish to sum up the differences between men and women. The conflicts and madness between them is never going to die out till the time the pigs can fly.
Hope you had a good time reading this as much as I enjoyed writing the post.
(Visited 119 times, 2 visits today)