The high cost of hotel bookings has forced the young Indian travellers to look out for alternative accommodation options that are equipped with basic amenities yet low on budget. Airbnb properties are increasingly surfacing all across India and they are revolutionizing travelling in India. These properties are not only budget-friendly; they also ensure that you have a memorable vacation. Do you love travelling but the budget is your major constraint? Take a look at these budgeted and beautiful Airbnb properties across India that should be on every traveller's wish-list.
1. Luxury Treehouse in Aldona, Goa
This luxury treehouse in Goa offers you great staying experience without burning a big hole in your pocket. Located amidst lush greenery in Aldona, this Airbnb home is a choice for travellers who love peaceful and serene side of Goa.
Cost: INR 3190
2. The Parsi Manor in Matheran, Maharashtra
The Parsi Manor is a 100-year-old heritage bungalow that is now let out to tourists at a nominal price. This property is surrounded by the lush green forest of Matheran and gives you a sneak peek into beautiful, untouched nature.
Cost: INR 4600
3. Ecological Bungalow, Munnar Hills
This delightful Airbnb property is located right in the middle of the Cardamom and Pepper Plantation that is spread across 8 acres. A popular choice for nature lovers to enjoy the brilliant sight of sunrise and sunsets amidst extraordinary surroundings. Besides guests are also pampered with the traditional Kerala cuisine that leaves a scintillating experience on your taste buds.
Cost: INR 2300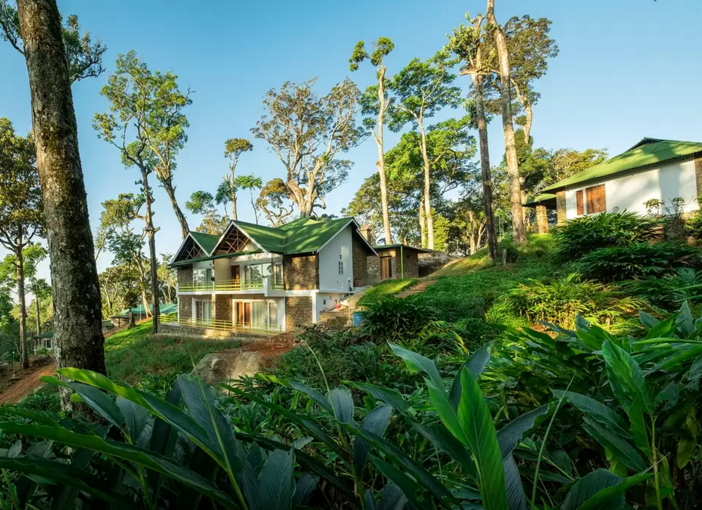 4. Karnot Mahal, Jaipur
Karnot Mahal is a 270-year-old Heritage property in Jaipur, Rajasthan that was once the home to Royals. This heritage haveli is converted into an Airbnb property that boasts of impeccable hospitality. What's more, you can now live like a royal without worrying about the budget.
Cost: INR 1800
5. Abode in Heaven, Mukteshwar
This stunning property in Mukteshwar is a duplex cottage that offers a 180-degree panoramic view of the majestic Himalayas. Rise up to the sight of snow laden Himalayas every morning and take early morning hikes to bask in the beauty of nature.
Cost: INR 4500
6. Bamboo Cottage, Assam
The Bamboo Cottage in Guwahati, Assam gives you the real feel of the Assamese culture and traditions. This Airbnb property is located close to a conventional Assamese neighbourhood and the surrounding beauty of this place is sure to rekindle the artist in you.
Cost: INR 800
7. Birdsong Home, Darjeeling
Located on the slopes of the popular Mirik town, the Birdsong Home in Darjeeling is a luxurious property that gives you a stunning of the surrounding valleys and mountain range. A perfect vacation home for hill walkers and nature lovers.
Cost: INR 3600
These Airbnb rentals turn out to be the super cool choice for avid travellers. Besides making your stay comfortable they offer a wonderful view of the surroundings.