These 6 Bollywood celebrities look exactly like their parents!
Bollywood celebrities are considered as some of the world's best celebrities. Their good looks are hierarchical, that is in simple…
---
Bollywood celebrities are considered as some of the world's best celebrities. Their good looks are hierarchical, that is in simple language they have inherited the good looks from their parents. No Wonder, It's pretty natural for STAR kids to look like their celebrity parents. Today we give you a small pack of entertainment by showing how some star kids are just simply copy-pasted versions of their parents.
There are some Bollywood celebrities who are exact copies of their parents. For example, Shruti Haasan looks a ditto copy of her mother, Sarika. Soha Ali Khan also looks a lot like her mother and veteran actress, Sharmila Tagore. However, her brother Saif Ali Khan doesn't resemble his parents. Bollywood's Sanju baba has similar features which remind us of the late  Nargis Dutt. There are numerous celebrities in Bollywood who are look-alike of their parents but here we have 6 Celebrity star kids who are doppelgangers of their parents.
Ranbir Kapoor and Neetu Singh
Ranbir Kapoor is one of the most desired men in our Bollywood industry. He has grasped those good looks from his mother Neetu Kapoor. This mother-son duo share a lovely bond in real life and it is very easy to make out that why he is so handsome?
Amrita Singh and Sara Ali Khan
Saif Ali Khan's daughter Sara Ali Khan has got all the good looks from her mother. Sara made her Bollywood debut with Sushant Singh Rajput. She has been blessed with the same bold features like her mother. She is already ruling hearts and shes also rumored to be dating Kartik Aryan.
Twinkle Khanna and Dimple Kapadia
Even a child can make out that these two resemble each other a lot. Dimple was one of the finest and most beautiful actresses of her era, similarly, Twinkle is one of the most beautiful and graceful actresses, who is a carbon copy of her mother.
Alia Bhat and Soni Razdan
Alia Bhat, the young and bubbly girl of Bollywood has embraced all the good looks from her mother. She never fails to complement and acknowledge her mother for making her look beautiful.
Sonakshi Sinha and Poonam Sinha
Poonam Sinha is renowned for her traditional beauty. Similarly, her daughter has succeeded in ruling the traditional look. Sonakshi and her mother are not only best friends in real life but also look alike.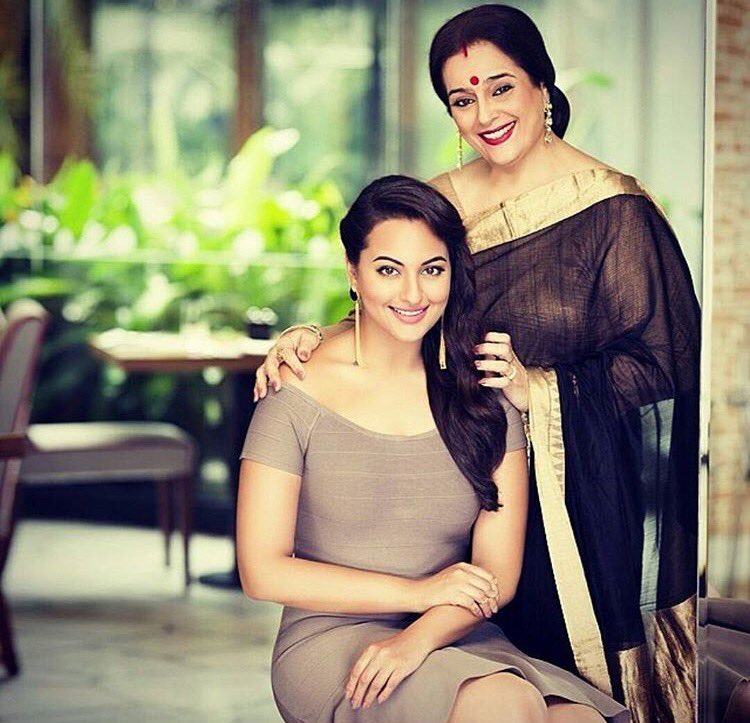 Karishma Kapoor and Babita
The most beautiful Kapoor family has blessed Bollywood with alluring actresses, Kareena and Karishma. Karishma resembles Babita a lot, hence it is not at all difficult to tag them as the most beautiful mother-daughter, Jodi.
Don't These Star Kids Look Just Like Their Parents?
Fans are obsessed with Celebrity kids and often tries to find out the similarities between the actors and their kids as we fans love to stalk our favorite Bollywood actors. Since we dig up the old pictures of Bollywood celebs, we start to find similarities between star kids and their parents. I hope you get an understanding of how DNA works and it is not that hard to identify the father-son or mother-daughter relationship.
When you compare those images you will see that some of them are the exact replicas. 
(Visited 388 times, 1 visits today)