Queen girl Kangana Ranaut Injured On Manikarnika Set; Gets 15 Stitches On Forehead
Kangana Ranaut have had some major sword fighting scenes to shoot on Wednesday with co-actor Nihar Pandya during the shooting…
---
Kangana Ranaut have had some major sword fighting scenes to shoot on Wednesday with co-actor Nihar Pandya during the shooting of an intense sword-fighting sequence for Manikarnika film in Hyderabad. Unfortunately, the actress was hit and got a deep cut on her forehead. Moment the unfortunate accident happened, the go-getting actress was rushed to the nearby Hospital amidst pain and bleeding. She had to undergo a minor procedure and was given around 15 stitches on the forehead and has been advised rest for few days.
The sword made a deep cut on her forehead and the examining doctor said that it was a close shave for her because the cut had been very close to the bone.
Later, Kangana commented that it was a bit theatrical that my face was covered in blood and I got an authentic feeling of a real Queen's life. Kangana has been training hard in sword fighting under Hollywood stunt director Nick Powell. She is also taking horse riding lessons. Directed by Krish, Manikarnika – The Queen of Jhansi has Kangana playing the title role of Jhansi queen Rani Laxmibai.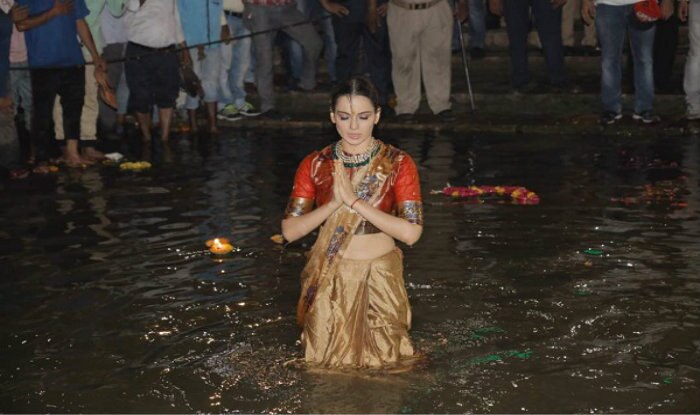 The film's producer Kamal Jain said that the action scene had been rehearsed several times and Kangana had insisted on doing the scene herself instead of employing a duplicate.
As the sword made a deep cut between her eyebrows, Kangana put up a brave front despite the pain and bleeding. Her co-star Nihar was apologetic and felt terrible, but the 'Queen' actress tried to pacify him. As per the clinicians the injury might get a scar on Kangana's face and might have to go in for a cosmetic surgery to correct it once the shoot is over.
Meanwhile, queen has decided to shoot with the scar throughout the shooting of the film.
(Visited 98 times, 1 visits today)