Kareena Kapoor looks beautiful even without makeup and these pictures are enough to prove it!
Kareena Kapoor is one of the versatile actresses of Bollywood. She belongs to the legendary Kapoor family, and her acting…
---
Kareena Kapoor is one of the versatile actresses of Bollywood. She belongs to the legendary Kapoor family, and her acting skills are as reckoned as her fathers and great-grandfathers. Kareena made her debut in the year 2000 with the film 'Refugee'. She was the perfect combination of good looks and talent. There has been no looking back for Kareena since then.
Kareena Kapoor Khan as we now know her is one of those Bollywood actresses who love to live her life on her conditions. She has no apprehensions in shedding her glamorous image and making public appearances, just the way she is. Take a look at these pictures of Kareena Kapoor Khan without makeup and you will still not be able to take your eyes off.
The Bubbly Girl –
As you can see Kareena does not need any makeup to look beautiful. Her electric smile is all that she needs to carry with her.

Sister Love –
This is a very sweet picture of Kareena with her sister Karishma. They are one of those few Bollywood siblings who do not need any makeup camouflage to look lovely.

Stylish Beauty –
In this picture Kareena Kapoor looks drop-dead-gorgeous sans any makeup. Her light blue eyes and striking facial features are enough to make head turn wherever she goes.

Bebo Mein Bebo –
Kareena Kapoor's natural beauty has made her one of the most reckoned actresses of the industry. With such glowing complexion and sparkling eyes, who needs artificial add-ons?

Innocence Personified –
A young Kareena in her early days of stardom. She looks stunningly beautiful in those freckles and the innocence in her heart clearly reflects on her face.

The cool couple –
When you are so much love it starts showing outwardly. Both Kareena and Saif look super cool and charming without any artificial layers of makeup. Wearing a collared t-shirt over her favourite Zara skirt, Kareena is seen posing with Saif Ali Khan outside a theatre in Mumbai's Santacruz.

Chilling with her co-stars –
A real bunch of celebrities who can woo their fans even in their natural looks. In this picture Kareena Kapoor is seen with sister Karishma, co-actors Shah Rukh Khan and Alia Bhatt.

Morning Diva –
Kareena Kapoor is blessed with flawless skin and goddess-like physique. This picture of her taken early in the morning, during one of her shoots and you can't stop staring at her.

The Baby Bump –
You must never have a hotter to-be-mom than Kareena Kapoor Khan. The pregnancy glow added to her natural good looks and striking beauty.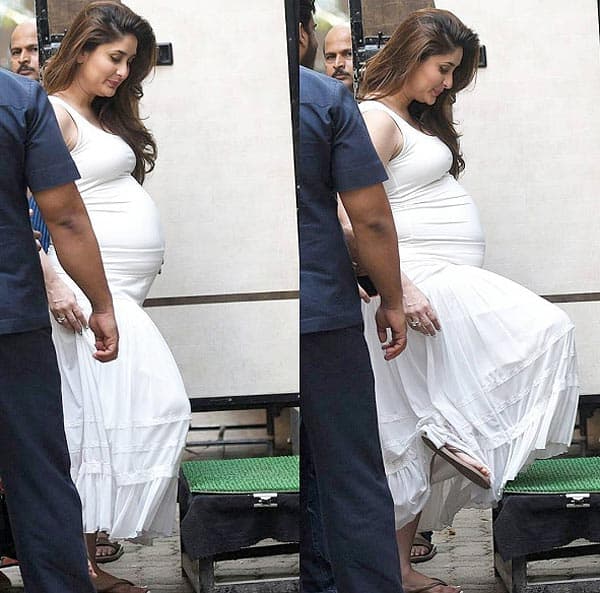 The Super Hot Mommy –
this is one of the most recent pictures of Kareena Kapoor after the delivery of her baby boy in December. Spotted outside the Mehboob Studio, the new mommy looks so fresh and fabulous at the same time that we do not seem to mind the added pregnancy weight.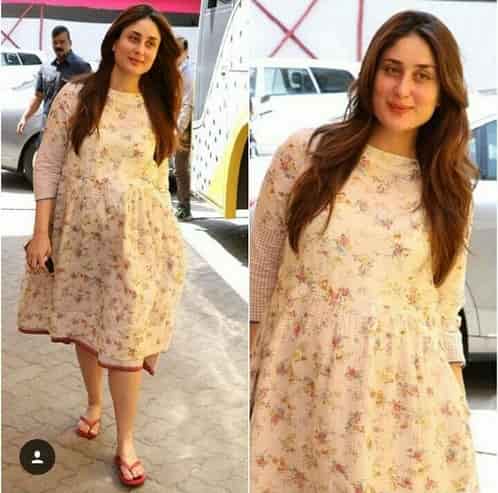 These were the best no make-up looks of Kareena Kapoor that prove that she is a real star!
(Visited 389 times, 1 visits today)