Here Are Top 7 Best Shopping Markets in Delhi For Girls
Delhi is a place full of life. Being the Capital of India, not only there are some awesome Shopping Malls in Delhi…
---
Delhi is a place full of life. Being the Capital of India, not only there are some awesome Shopping Malls in Delhi but it also has some exceptional Shopping Markets. Delhi becomes most popular place when it comes as a shopping destination. The city is loud in every sphere and 'Dilliwallahs' love to put up a good show. Big cars, bigger houses and newer fashion trends. Here Are Top 7 Best Shopping Markets in Delhi For Girls:
1. Sarojini Nagar:
Image Source:

www.kahajaun.com
Sarojini Nagar Market is located in the South West of Delhi. It is named on Sarojini Naidu, an Indian Independence Activist. This Market is one of the cleanest in Delhi. It offers quite inexpensive trendy clothes with a lot of bargaining. Sarohini Nagar Market is a shopping delight for girls of Delhi. This market is mostly visited by college going youngsters. There are a lot of Shops and Stalls in the Market so you need a lot of time to complete your shopping.
2. Lajpat Nagar Market:
Image Source:livemint.com
The hectic Lajpat Nagar market provides an interesting glimpse into Indian culture. It's one of the oldest markets in India and is abuzz with middle class Indian shoppers, all swarming around its roadside stalls and showrooms. One of this market's main attractions is the Mehendiwalas, who will apply beautiful henna designs to your hands with astonishing speed. You'll also find reasonably priced Indian kurti tops and salwaar kameez suits here.
3. Janpath Lane: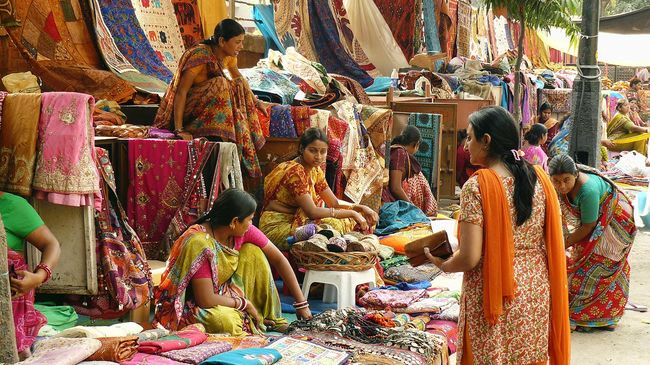 Image Source:

www.tripoto.com
This market is a mix of fixed small shops and local stalls. You'll find fairly cheap clothes, handicrafts, bags and jewellery here. From traditional to western, all kinds of good stuff is available here at reasonable prices which are 'highly bargain-able'.
4. 
Chandni Chowk:
Image Source:www.whatsuplife.in
The shopping district of Chandni Chowk has been in existence for hundreds of years and an exploration of its winding, narrow alleyways is certainly an adventure. The lanes of Chandni Chowk are divided into bazaars with different areas of specialization. For fabrics, head to Katra Neel. In the Bhagirath Palace area, you'll find a huge range of electronics. Dariba Kalan is Old Delhi's ancient silver market full of silver jewelry. Kinari bazaar sells everything you need for a wedding, including saris. Khari Baoli Road has Asia's largest spice market.
5. Janpath and Tibetan Market:
Image Source:www.indianholiday.com
This very popular and lively Delhi market, which was recently given a makeover, has something for everyone. You'll find goods from everywhere in India and Tibet here, and it's a great place to shop for things to take back home. However, you'll need all your bargaining skills to get a really decent price.
6. Karol Bagh:
Karol Bagh is a market which offers something for everyone. You get almost everything in here. You can visit Ajmal Khan Road to buy inexpensive and trendy apparels and also some International Brands. If you want to buy or sell your old books, you can visit Arya Samaj Road. If you wish to buy jewellery, then you should move to Bank Street. Nearby Ghaffar Market is very popular and best shopping markets in Delhi for Imported Item.
7. Paharganj market:
Image source: blog.treebohotels.com
Paharganj market is situated just opposite to platform number 1 exit of the New Delhi railway station.On the metro train route it falls on the blue line.Besides being a popular area for buget hotels , it is a shopsholics favourite destination.You can buy baby dresses, shoes , electronic items , tribal jewellery,jackets and leather bags here at a reasonable price.Paharganj is also the market where you can find custom tailored suits and shirts for men.It is a very crowded and conjugated market.
Featured Image Source:www.womensweb.in
(Visited 1,561 times, 3 visits today)