Here Are Top 101 Bollywood Horror Movies That You Just Can't Watch Alone!
Think of a Bollywood horror movie and what comes to mind is a Ramsay film with 'a puraani haveli', 'Ramu kaka',…
---
Think of a Bollywood horror movie and what comes to mind is a Ramsay film with 'a puraani haveli', 'Ramu kaka', creaking doors and ugly-as-hell monstrous creatures. The graphics and costumes are so bad, that they're funny, not scary, But while some movies have spoilt the reputation of Bollywood horror flicks but that doesn't mean that Bollywood has never produced any gems. Here's a list of 11 Bollywood movies that are so scary that you just cannot watch them alone:
1. Raat (1992):
Raat is considered to be one of the finest films RGV has made. It's a supernatural thriller that doesn't go over the top with the nuances of a horror film. The plot is set into motion when a kitten is killed and the leading lady is possessed with its spirit. After you watch this cult classic, you will never look at cats the same way.
2. 1920 (2008):
A royal deserted mansion. Check. A mysterious caretaker. Check. A newlywed couple. Check. This movie abounds in every cliche expected of a horror film but what sets it apart from the others is the sheer artistic finesse with which the frames have been done. Chills guaranteed.
3. Raaz (2002)
Inspired by the Michelle Pfeiffer starrer 'What Lies Beneath', Raaz was just the beginning of a slew of horror films that Bipasha Basu was to sign later. Pfeiffer did a commendable job in the original. But our Bips matched her in every way.
4. Ragini MMS (2011):
Ragini MMS is inspired by the American supernatural horror 'Paranormal Activity' and is partly based on a real story. Unlike its sequel, this one did not have Sunny Leone but still managed to draw the crowds to the theatre's thanks to its edge-of-the-seat thrills. This sleeper hit can give you a few sleepless hours when you hit the bed at night.
5. Horror Story (2013)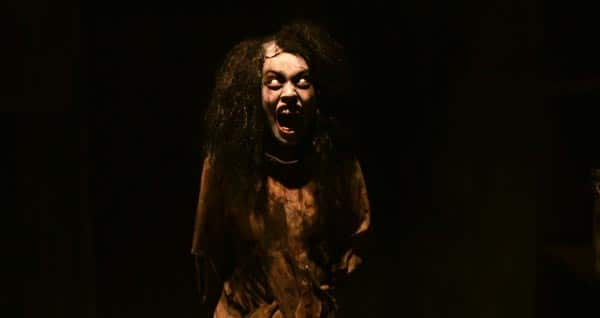 A group of youngsters decide to spend the night at a haunted hotel. Things get convoluted and it's a scare fest thereon. There are some genuinely frightening scenes that will make you jump off your seat. Those looking for chills won't be disappointed at all.
6. Shaapit (2010):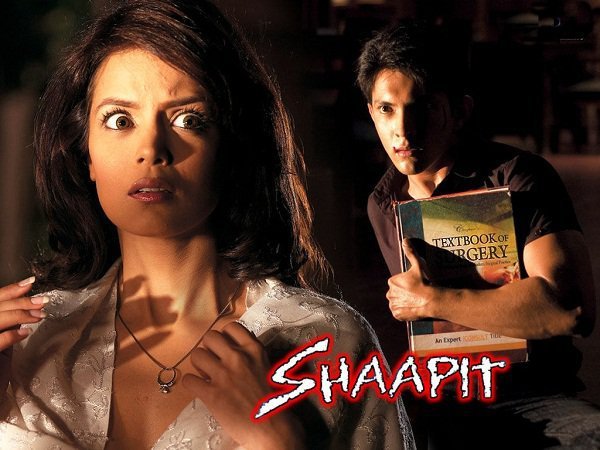 The third instalment in the Raaz trilogy, Shaapit is good enough to raise the hair on the back of your neck. Like every Vikram Bhatt film, the USP of this film lies in its treatment, keeping it stylishly eerie. By the end of it all, you might want to believe in curses and evil spirits.
7. Ek Thi Daayan (2013):
The thought of daayans existing in society is spooky in itself. Ek Thi Daayan is a brave attempt at trying something new. It is a cross between an out-and-out horror film and a creepy, paranormal thriller. The supernatural drama may seem unrealistic but the stylised treatment and the taut storyline makes up for it, not to mention Konkona Sen's eerie portrayal of a daayan. Spooky indeed!
8. Bhoot (2003):
The scare element in Bhoot is kept brewing through most parts of the film and is frequently intercepted with scream-out-loud moments. Bhoot was one of the last gripping films churned out by Ram Gopal Varma before he switched to making films like Ram Gopal Varma Ki Aag.
9. Darna Mana Hai (2003)
Only Ramu can make apples look scary. This flick by RGV features in this list not because it is scary but because of its innovative script. Ramu packs in 6 of the most creative short stories in one movie, each with outrageous twists. No wonder they call him a maverick!
10. Phoonk 2 (2010)
Another creepy film churned out by Ram Gopal Varma's Factory, Phoonk 2 deals with the practice of black magic. RGV had so much faith in his film that he promised to offer Rs 5 lakhs to anyone who would watch the film alone in the theatre and not run out scared. Some challenge that!
11. Alone (2015):
The story revolves around conjoined twins Anjana and Sanjana, who had promised to be together always and how the death of one sister leads to a series of chilling incidents that leads the surviving sister to believe that the ghost of her dead twin is haunting her.
(Visited 619 times, 1 visits today)