Here Are The Top 10 Strangest Buildings in the World!
Architecture is one of the most amazing arts in the world, it's always evolving and changing. As the famous quote says,…
---
Architecture is one of the most amazing arts in the world, it's always evolving and changing. As the famous quote says, "Beauty lies in the eyes of the beholder" but for some, this doesn't fit right, especially when we are talking of the architecture and the buildings across the world. There are several strange buildings we come across, which not only look strange but also amaze our minds because of the creativity being used to construct such extraordinary structures.
1. The Crooked House (Poland):
Image Source:commons.wikimedia.org
The crooked house in Sopot, Poland has an extraordinary and amazing structure. It was built in 2003 with design based on the pictures of Jan Marcin Szancer and Per Dahlberg. It looks as taken from a cartoon movie, its design is "crooked", but a kind of symmetrically, so it is not ugly at all, just strange! The interesting part is how builders managed to create this genius idea, but the house is a fact and everyone admires their creativity!
2. Lotus Temple (Delhi, India):
Image Source:maps.mapmyindia.com
Built in 1986, the Lotus Temple is the House of Worship for Bahai community. Built by the famous architect Fariborz Sahba, the temple resembles the shape of a lotus and is significantly one of the important buildings in the architectural history of India. It has also won several awards across the world.
3. Dancing Building (Prague, Czech Republic):
Image Source:inspirationseek.com
Situated in Prague, Czech Republic, the Dancing Building is one of the unique structures ever built. It portrays two building hugging each other and dancing! Designed by Vlado Milunic along with Frank Gehry, this is surely one of the Strangest Buildings in World.
4. Cathedral of Brasilia (Brazil):
Image Source:en.wikipedia.org
The Cathedral of Brasilia is a beautiful building, designed to be residence of the Archdiocese of Brasilia. The designer Oscar Niemeyer made this gorgeous structure using 16 columns of concrete, each of them with 90 tons weight! It is an amazing building, full of light and created with greatest care for details. The Cathedral of Brasilia is definitely a building worth to be seen!
5. The Dynamic Tower (Dubai):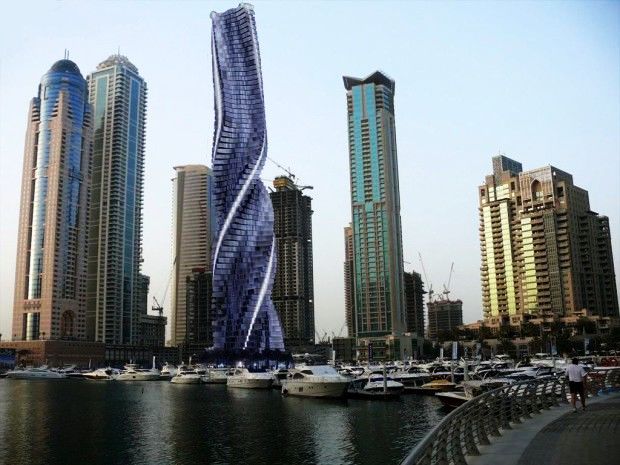 Image Source:www.hellotravel.com
The Dynamic Tower also known as Da Vinci Tower is a spinning tower of 80 floors designed by David Fisher. Each floor rotates approx 6 meters per minute and a complete rotation takes 90 minutes. This is world's first prefabricated skyscraper which has 40 factory-built modules for every floor.
 6. Nautilus House (Mexico):
Image Source:www.designrulz.com
Built in the form of a sea-shell, this is a beautiful creation designed by architect Javier Senosiain. The surface of this structure is smooth and also has spiral staircase. This is a beauty to watch!
7. Cubic Houses (Netherlands):

Image Source:all-that-is-interesting.com
Designed by Piet Blom, the Cubic Houses are examples of brilliant architecture and creativity. There are 38 cubes attached to one another to make it look like a forest of houses. A genius idea, brilliantly implemented!
8. Waldspirale (Germany):
Image Source:inhabitat.com
The name of this residential complex translates to "forest spiral" in English, reflecting the general plan of the building and its green roof. On the outside, some of its most notable features are the tower that resembles Russian onion domes, an absence of straight lines and sharp colors, and the multicolored painting of the building.
Image Source: nomadicsamuel.com
La Pedrera or known also as Casa Mila is in Barcelona, Spain. The story of the house is pretty interesting – it was designed by Antoni Gaudí and built for a married couple. It is an extraordinary but stylish building considered to be highly unconventional – there is not even one straight line! Visitors can go to the top floor, the attic and roof and have a close look at this masterpiece!
10. NCPA (National Centre for the Performing Arts) (China):
Image Source:www.china.org.cn
This project took almost 6 years to be completed, NCPA is one of the strangest building built in China. The building is completely built of glass and resembles the shape of an egg which is lying on a lake. This is simply amazing!
(Visited 95 times, 1 visits today)