Here Are The 8 Most Expensive Bollywood Celebrity Weddings!
Wedding is one of the most special and loveliest moments of life. We all try our best to make it…
---
Wedding is one of the most special and loveliest moments of life. We all try our best to make it unforgettable not only for bride and groom, but also for the guests and all family members. Special preparations are done on this occasion. The weddings of Bollywood celebrities always remain in the eyes of media and audience, because everyone of us loves to know how much the cost of the Bollywood weddings have been, and what kind of customs were performed. Let us see the top 8 most expensive Bollywood celebrity weddings:
1.Vivek Oberoi and Priyanka Alva:
The opulence-crazy couple got married in a splendid style in 2010, at the lavish Alva farmhouse, near Hebbal Lake, in Bangalore. Bollywood star, Vivek Oberoi and Priyanka Alva, daughter of former Indian politician Jeevraj Alva, had a royal themed wedding. Even before the wedding functions started, they had everyone's attention with their opulent wedding cards. Their wedding invite was a limited-edition piece; the two-tiered box contained an expensive Ganjifa artwork, which made it a collector's item.
2.Aishwarya Rai and Abhishek Bachchan :
Aishwarya and Abhishek are Bollywood's golden stars. On their wedding, Aishwarya was presented 15 kgs of gold and some precious diamond to wear on different functions. Her dresses came from the designer Neeta Lulla. The wedding costs are around 6 crores.
3.Shilpa Shetty and Raj Kundra:
Shilpa Shetty was one of country's most desirable women. She married to London-based businessman Raj Kundra. The celebrations started in Khandala with a mehendi-cum-sangeet ceremony. Shilpa wore dresses by designer Tarun Tahiliani on all her wedding functions. They spent around 4 crores on this grand wedding.
4.Kareena Kapoor and Saif Ali Khan:
Saif Ali Khan and Kareena Kapoor's marriage has been one of the most talked about ceremonies of Bollywood. The two stars married after a long love affair. According to sources, Saif and Kareena had booked two five star hotels in Mumbai for the guests. They spent around 10 crores on this marriage.
5.Genelia D'Souza and Riteish Deshmukh: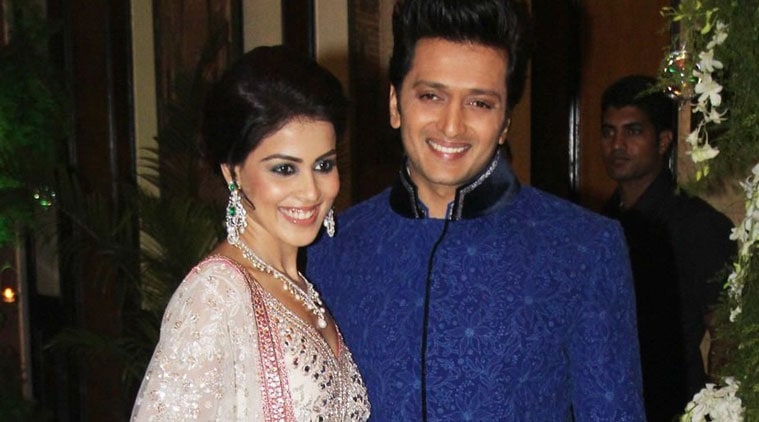 Actor Riteish Deshmukh wed his long time girlfriend and actress Genelia D'Souza. The wedding took place with Maharashtrian customs followed by a Church wedding. According to sources, the two stars spent over 5.5 crores on all the functions of this wedding.
6.Avantika Malik and Imran Khan:
Imran Khan announced his wedding with his ladylove Avantika Mallik. The couple invited various Bollywood celebrities on this occasion. Imran and Avantika's mehendi ceremony took place at Avantika's parent's farmhouse in Karjat. The baraat was arranged at the Taj Lands End hotel of Mumbai. The estimated cost of this wedding was 5.2 crores.
7.Hrithik Roshan and Suzaane Khan:
Hrithik Roshan married to Suzanne (Khan) Roshan, owner of Suzanne Roshan's House of Design and daughter of actor Sanjay Khan. The wedding was held on 20 December 2000. The couple has two sons, Hrehaan, born in 2006 and Hridhaan born in 2008. The cost of this unsuccessful love marriage was around 3 crores.
8. Akshay Kumar and Twinkle Khanna :
Akshay has long been in love affairs with a number of fashion models and Bollywood actresses. But finally, he announced his marriage with actress Twinkle Khanna, the daughter of Rajesh Khanna and Dimple Kapadia. The two stars married of 17 January 2001. Their son named Aarav was born in September 2002. Akshay spent over 3.5 crores on this wedding.
Now, there is little left to imagine that why there is so much excitement and buzz surrounding B-town weddings. Everything about these weddings from wedding preparations to guest list has a magnificent edge, and that is literally quite stunning!
(Visited 86 times, 1 visits today)