Here Are The 7 Top Expensive Bikes in The World!
The Bikes are considered as one of the most popular vehicles and rides one can have. But it is not…
---
The Bikes are considered as one of the most popular vehicles and rides one can have. But it is not only about the commercial use of the bikes but it goes much beyond that. Most have a preference to purchase the rack from a recognized brand name such as Benelli, Ducati, Rickman, Terra Modena, Harley Davidson and Indian. Here you can check Top 7 Most Expensive Bikes In The World:
1. Dodge Tomahawk V10 Superbike ($555,000):
Image Source:

www.thestorypedia.com
Viper V-10 based motorcycle; Dodge Tomahawk has 500 horsepower engine having four wheels same as car with an awesome sounding. Having speed of 60 miles per hours while top speed of 400mph, Tomahawk has each of two wheels has independent suspension to handle to power of engine. Pricing up to $555,000 it is another most expensive model which is equipped with 20-inch perimeter-mounted drilled machined stainless steel rotors of custom designed blue anodized caliper finish.
2. Ecosse Titanium Series FE Ti XX ($300,000):
Image Source:bornrich.com
Ecosse Titanium Series FE Ti XX is new exclusive model from the firm having a 2.4l billet aluminum powerplant which capable to produce 225hp while Grade 9 titanium pipes have a ceramic, hydraulic clutch and shot-peened finish. Costing a $300,000 Ecosse Titanium Series FE Ti XX is become the most expensive bikes in the world and one of the fastest bikes in the world and successor of Ecosse Titanium Series RR with some extraordinary modifications.
3. Suzuki AEM Carbon Fiber Hayabusa ($200,000):
Image Source:

www.tsiri.com
The bike is made using not anything but carbon fiber, building it very light. The light weight frame even permits its engine, whose organization system was finished by AEM, to rev the motorbike more than 186 miles for each hour.
4. MV Agusta F4CC ($120,000):
Image Source:www.autoevolution.com
This proud Italian super bike boasts being very rare, as there are only 100 of these road monsters built. Beneath the shell is the roaring F4CC's 4-cylinder engine, which can generate 200 horsepower with relative ease. That translates to a top speed of 195 miles an hour. Whether it's worth the huge price or not, you decide.
5. MTT Turbine Street-fighter ($75,000):
Image Source:mastegg.com
It is one of the strongest and fastest bikes in the world. It has Rolls Royce Turbine Engine and clocks 249 miles per hour as the highest speed. The bike with 17 inches wheels is priced at $75,000.
6. NCR Leggera 1200 ($72,000):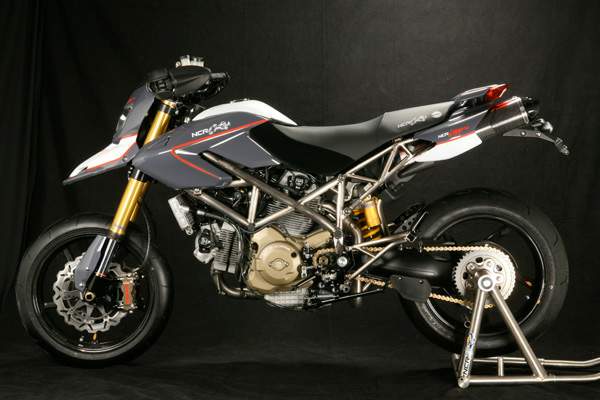 Image Source:www.motorcyclespecs.co.za
Lightweight is something that most people can't stamp on huge motorcycles, but the word seems to find its place with the NCR Leggera 1200. The bike's frame is fashioned from handcrafted titanium and the brakes are made of carbon fiber. This enabled the Leggera 1200 to weight 47 kilos lighter than most stock bikes. Lightweight? Yes. Sturdy? Even more so. Powerful? You bet.
7. NCR M16 ($232,500):
Image Source:www.ncrfactory.com
It's hard to imagine that the NCR M16, as beautiful and powerful as it is, is just a modification of something else. But that is the case. This super bike is the berserker version of the already powerful Ducati Desmosedici RR. Flaunting a carbon fibre frame, swingarm and wheels and ceramic matrix composite for brakes. NCR M16 is also a very light super bike. The V4 engine, on the other hand, proves to be a perfect complement to the bike's overall construction. Giving the bike 200 horsepower, this beast of the road is clearly a one fast super bike.
Featured Image Source:
(Visited 52 times, 1 visits today)