Here are 8 bollywood child artist who left the audience awestruck with their amazing performances
There are quite a number of performances that leaves you speechless and wanting more. Performances that you wish would never…
---
There are quite a number of performances that leaves you speechless and wanting more. Performances that you wish would never end and leaves us to spell bound and if these characters are by child actors then it becomes even more mesmerizing. There are certain roles that are played so well that at times we cannot see anyone else doing the same justice to it regardless of the age. The most mesmerizing performances of child actors.
1. Naisha Khanna – Brothers
Naisha Khanna is a seven-year-old cute little artist and she made her Bollywood debut in the movie Brothers in which she played the role of a daughter to Akshay Kumar and Jacqueline Fernandes. In her first big screen performance, she has got huge accolades for the vital role she enacted.
2. Harshaali Malhotra – Bajrangi Bhaijaan
What an ecstatic performance was given by this small beautiful girl who is just seven years old. Generally, we say word speaks, but its completely her acting power that had got her accolades for a role in which she played a deaf and dumb girl in the movie Bajrangi Bhaijaan alongside the superstar Salman Khan whose name is enough for the movie to do wonders. So its no looking back for the pretty girl.
3. Partho Gupte – Stanley ka Dabba, Hawa Hawaii
Partho Gupte made a debut in the movie Stanley ka Dabba in which he was received few awards for his mesmerizing performance as a student who never took tiffin to school and would munch on his friend's tiffin. He became a sensation with his rocking performance.
4. Harsh Mayar – I Am Kalam
Falling short of words to describe the talent showcased by Harsh Mayar who played Chotu in the movie "I am Kalam" for which he received the prestigious National Award for the best child actor and few more International awards for the same. Its no looking back for the actor whose work is simple and yet so touching and inspiring.
5. Darsheel Safary – Taare Zameen Par
Darsheel Safary who has acted in few films but got to fame through his power pack performance in the movie "Taare Zameen Par". In the movie, he played the lead role of Ishaan a boarding school student, suffering from dyslexia in which whatever he did went wrong. His acting skills were so brilliant that it brought tears from our eyes.
6. Ayesha Kapur – Black
A breathtaking performance which proves action speaks louder than words is impeccably played by adorable Ayesha Kapur as younger Michelle Mc Nally in the movie who is blind as well as deaf. The character shows how courageously she overcomes her disabilities and leaves the audience wanting to see her more.
7. Shweta Basu Prasad – Makdee, Iqbal
Shweta playing a double role in her debut movie Makdee as Chunni / Munni plays twin sister who breaks the myth of witches in her village. She bagged the National Film Award for the Best Child Actor and an international award as well. Back to back in her next movie Iqbal, she played a role of Khadija, sister, to Iqbal and helped him get into Cricket Training Academy. She has bagged a number of awards for her powerful performances in both her movies leaving the audience speechless.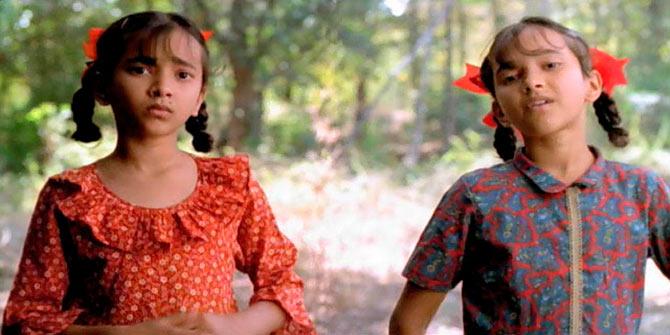 8. Sana Saeed – Kuch Kuch Hota Hai
Sana Saeed came to limelight from the movie Kuch Kuch Hota Hai in which she played the role of Anjali, daughter of Shah Rukh Khan. She won hearts of many through her simple and elegant performance stole the show even though the movie had quite a number of superstars and leaving the audience wanting more.
A few awestruck performances that I cherished and wish to see them again. Age doesn't matter, what matters is the talent.
(Visited 160 times, 1 visits today)