Here Are 7 Shoe Shopping Rules That Every Woman Should Know!
Women love shoes. Some of us have been in love with shoes since we were little girls and first heard…
---
Women love shoes. Some of us have been in love with shoes since we were little girls and first heard that fairy tale about Cinderella and her glass slipper. Sometimes we end up making unwise shoe purchases in the heat of the moment. Check Out! 7 Shoe Shopping Rules Every Woman Should Keep in Mind:
1. Shop at the end of the day:
Image Source:www.imagespalace.in
Be honest with yourself, you know its true.  By the end of a long day, your feet are a little sore and if you don't have the right size shoe on, you have those little indent lines on your foot.  While no one else will see them, you know they are there and not attractive at all.  Shopping in the evening gives your feet time to swell from the days actives and allows you to get the size you need for a better fit and comfort.
2. Try on three sizes before you buy:
Image Source: www.imagespalace.in
We recommend that you try on the size you are use to.  Then go down a 1/2 a size, then up a 1/2 size.  You may find that you can't just do a 1/2 size but a full size, that is okay.  Remember, its okay!  You want to find shoes that don't first crowd your feet and feel tight around your toes.  Podiatrist will tell you that if your unsure then go for the 1/2 size bigger.  You can doctor it up by placing arch support, or insoles into the shoes to take up that extra space.
3. Beware of your budget: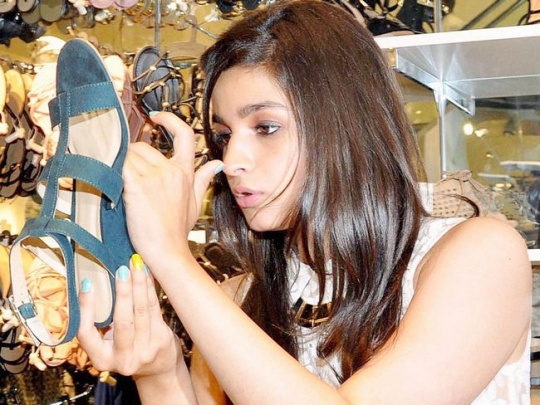 Image Source:www.jesselynch.com
Remember, just because they're on sale, doesn't mean you need them!  Don't impulse buy just because they are the cutest black shoes you have ever seen.  Most likely, you own a pair just like them or can find them at a lower cost if you only shop around a little bit more.
4. If you can't walk in it, don't buy it:
Image Source: www.pinterest.com
we have all done this at some point.  Cute shoes on the shelves, fall in love with them, taken them home, put them on, and OMG you can't walk in them without risking a broken bone. They look amazing, but realistically, you can't wear them.  Save your money, and purchase something practical instead.
5. Wear something cute:
Image Source:www.pinterest.com
You don't have to get fully dressed up to go shopping for a pair of dress shoes.  A pair of good looking jeans, a great top and your ready to rock and roll.  Remember, if you feel great, then the shoes will just compliment the outfit and nearly any outfit.
6.Forget trends:
Image Source: www.apherald.com
If the shoe doesn't work for your body, put it back and keep on shopping! For instance, an ankle bootie or shoe with an ankle strap can cut off your leg, making it appear shorter," says Accessories Stylist at ShoeDazzle Anya Sarre.
7.Know what your shopping for:
Image Source: bhosdike.in
We all have different events, activities and yes even workouts we do.  Not all shoes are made the same.  Yes, an athletic is an athletic across the board but remember you have cross trainers, running and walking shoes.  Each one is designed different for each activity.  There is a reason for this and good love the person who is aware of this.
Remember, your shoes are what protect your feet as well as add some style.  There is no reason to get something you will never wear again. Keep these rules in mind the next time you shop for shoes, and truly love all the footwear in your closet!
Featured Image Source: chinkipinki.com
(Visited 87 times, 1 visits today)