Here are 7 Places In India That Foreigners Are Craziest About
The tourism industry India is rapidly booming and India has emerged to become the most preferred holiday destination for foreign…
---
The tourism industry India is rapidly booming and India has emerged to become the most preferred holiday destination for foreign tourists. The Indian sub-continent is bestowed with pristine beaches, lush green landscapes, gigantic mountains and spectacular wildlife, aptly describing it as wanderlust. What's more holidaying in India is relaxing, pleasant and super affordable. Take a look at these 7 best places in India that foreigners are craziest about.
1. Agra –
The magnificent beauty of Taj Mahal has found a place among the wonders of the world and there is no doubt that Agra is one of hot-spot destination for foreign tourists. It is not a surprising fact that the brilliance of Taj Mahal appeals more to the foreigners than Indians.
2. Kerala –
Kerala or our 'God's Own Country' is a paradise for nature lovers. The sparkling beaches, tea plantations, Ayurveda resorts and traditional Indian spas have made this place the most sought-after destination for foreigners. Kerala has so many things to explore that foreigners simply get awestruck by its unspoiled beauty.
3. Goa –
The ultimate party destination of India, Goa offers a truly delightful experience for foreigners. During the day, foreigners relax with their sun bath and as the sun begins to set they gear themselves for the hottest party spots and nightclubs. Those who prefer solidarity unwind in the beach shacks or hop onto a luxury cruise. Foreigners time their vacation during the Goa Carnival Fest for an experience of a lifetime.
4. Rishikesh –
Rishikesh in Uttarakhand is extremely renowned as meditation and yoga retreat. Tourists from all over the world flock to this place during the time of International Yoga Festival. The serenity, tranquillity and unspoiled beauty of Rishikesh are the biggest attraction for foreign tourists.
5. Dharamsala –
Dharamsala in Himachal Pradesh is one of the seven places that foreigners are craziest about. The magnificent Himalayan ranges and Buddhist monasteries are the prime attractions of Dharamsala that lures foreign tourists from every corner of the world. Some foreigners even adopt Buddhism and transcend to a peaceful life.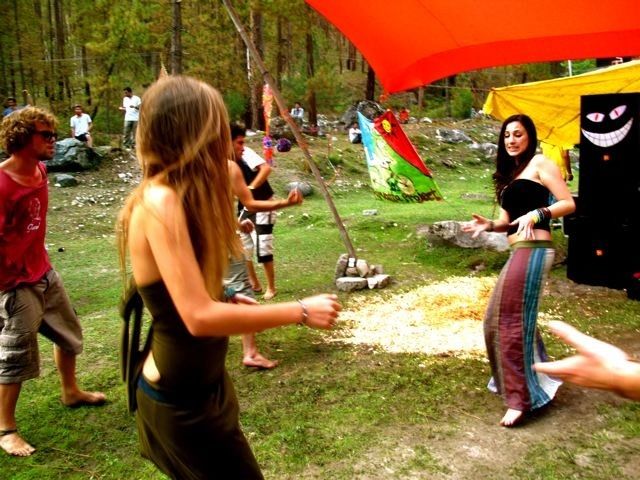 6. Gokarna –
Gokarna in Karnataka is an ideal laid vacationing spot for foreigners. The serene beaches of Gokarna are less crowded and retain their natural beauty unlike the crowded beaches of Goa. It is indeed a perfect peaceful getaway for happy-go-lucky-travellers.
7. Jaipur –
Jaipur is one the most flamboyant state of India that holds high esteem even for foreign tourists. An insight into the rich cultural heritage of Rajput's showcased at Jaipur is enough to mesmerize foreigners. The architectural brilliance of the Royal palaces and forts leaves everyone spellbound.
These were the 7 best 'foreigner's favorite' places in India. These places are definitely worth a visit for any avid travelers. Bon Voyage!
(Visited 244 times, 1 visits today)