Here are 5 Bollywood Dads We Truly Adore!
Fathers hold a very special place in our lives. The relationship of a dad with his children may not be…
---
Fathers hold a very special place in our lives. The relationship of a dad with his children may not be very vocal or expressive yet it is a very special bond that is nurtured with endless love and devotion. So this father's day TYM team decided to pay an ode to these standing pillars in our life. Bollywood has also celebrated this unconditional love through impressive performances in their father-centric movies. Take a look at these top 5 Bollywood Film dads whom we truly adore.
1. Bhasker Banerjee in Piku –
Directed by Shoojit Sarkar, Piku is a fragrant tale of a 20-something daughter (Deepika Padukone) with her aged Baba aka Bhasker Banerjee (Amitabh Bachchan). The movie beautifully depicts the roller coaster journey of a father-daughter on how they quarrel, argue, and complain about each other. As you watch the movie you can sense how Bhasker Banerjee is worried about his daughter in spite of his ailing health. Piku is one of those Bollywood father-daughter relationship movies that will make you cry, smile, and laugh at the same time.
2. Mr. Thapar in Yeh Jawaani Hai Deewani –
Yeh Jawani Hai Deewani is a story of a young aspirant Kabir aka Bunny (Ranbir Kapoor) who has a dream to travel around the world. The movie showcases how his ambition comes between his relationship with friends and family. Mr. Thapar (Farooq Sheikh) is Bunny's father who loves his son unconditionally and respects every decision of his son. His aim is to fulfill every wish of his son and nothing matters more to him than his son's happiness.
3. Yashvardhan Raichand in Kabhi Khushi Kabhi Gham –
Who can forget the role of Amitabh Bachchan as Yashvardhan Raichand in Kabhi Khushi Kabhi Gham? The movie shows how the super-rich dad followed his principles strictly even when he had to kick his elder son out for not following his rules. Even after being out of the house, the eldest son Rahul (Shahrukh Khan) promises his dad to keep the tradition of the family alive. KKKG is all about loving your parents and the re-union scene of father-son, in the end, can still make your eyes wet.
4. Jaiprakash Paswan in Chachi 420
A father can do anything for the love of his children and the character of Jaiprakash Paswan in the movie Chachi 420 showcases it well. The story is about a middle-class man played by Kamal Hassan who disguises himself as a 40+ maid to meet his only daughter while divorce proceedings are on with his wife. In the end he wins over the love of his wife and gets his family together.
5. Chaudhary Bal Dev Singh in Dilwale Dulhaniya Le Jayenge –
A story of a strict father Chaudhary Bal Dev Singh (Amrish Puri) who raises his two daughters in a traditional way even outside India. The character of father shown in the movie is rigid but when it comes to his daughter's wishes, he melts easily. In the end scene even after not approving the guy chosen by his daughter, Chaudhary Bal Dev Singh willingly gives up and ask his daughter to go with the man she truly loves. Who wouldn't want a father like him?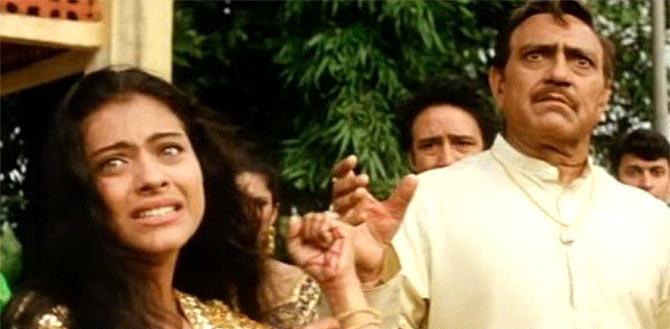 Make this Father's Day special by letting him know how much you love him.
A tight hug is enough to convey all the emotions. Which one of these on-screen dads reminds you of your beloved father? Do let us know in the comments.
(Visited 150 times, 1 visits today)