Here are 5 Actresses who have been recently criticized for their attire! Is it the 21st century?
Though we are on the path of becoming a developed nation, we still are unable to make our eyes feel…
---
Though we are on the path of becoming a developed nation, we still are unable to make our eyes feel comfortable with what a woman is wearing? People enjoy watching actresses with short clothes on that big screen, but when it comes to their real life or pictures we slut shame them, isn't it ironic? Here are the five actresses who have been criticized for their dresses.
1. Priyanka Chopra –
The Padma Shri award winner has made us proud across the globe. Recently, when she met Prime Minister Narendra Modi in Berlin she was criticized for the leg revealing dress she wore. Was there any point? (As if Modi ji doesn't watch movies only!)
2. Deepika Padukone –
Even XXX: Return of Xander Cage fame Deepika Padukone couldn't escape the maligning and hateful comments hen she posted her pictures in a short white attire. Her shorts were compared to Diaper. We love to admire her figure, but she can't accept her in a short dress.WOW!
3. Fatima Sana Sheikh-
Dangal fame Fatima was criticized for posting a picture in which she was posing wearing a black swimsuit. People took it to another level by saying that being a Muslim she shouldn't wear such clothes in the month sacred month of Ramzaan. (This is a hell of a logic!)
4. Malaika Arora Khan-
One of the fittest women in Bollywood despite her age when posted a picture in a backless dress was criticized harshly by the audience. People called her a wh*re and brought her divorce in the picture. (She has a life to live after divorce!)
5. Disha Patani-
The actress was slut shamed for wearing a revealing outfit at Filmfare awards. She reciprocated in an amazing manner and stole the show. Kudos to her!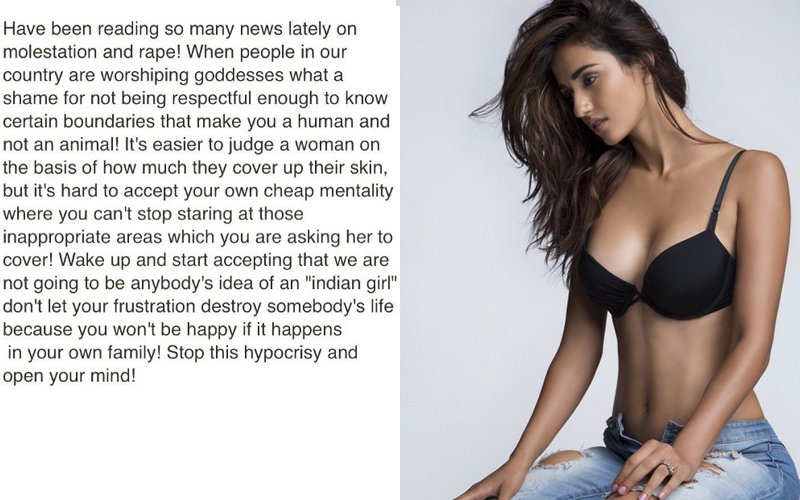 These incidents make us doubt that, are we living in the 21st century?
It is high time that we upgrade windows of our brains and install anti-virus software for the betterment of this society.
Cover Image: Instagram/Deepika Padukone
(Visited 74 times, 1 visits today)