Here are 10 Hotties From The '90s You Totally Forgot About!
While you are busy cherishing the love bond with your partner, let us take you back on the journey to…
---
While you are busy cherishing the love bond with your partner, let us take you back on the journey to the 90s era. Remember those celebrity heartthrobs of the yesteryear, with whom you madly fell in love it. Are you feeling nostalgic recounting those teenage giggles, laughter and excitement when you shared your crushes with your girlfriends? Here are the top 10 teen heartthrobs of 90's we loved to fall in love with –
1. Shah Rukh Khan –
Shah Rukh Khan or 'King Khan' as he is popularly known remains the ultimate crush of every Indian girl, even till date. He made his Bollywood debut with "Deewana" in 1992 and won accolades for his cute boyish looks and charm.

2. Milind Soman –
Every teenage girl had definitely fallen in love with this handsome hunk who ruled the fashion industry. Milind Soman was the undisputed heartthrob of that decade. Even today, he can make women skip their heartbeat.

3. Rahul Dravid –
A talented cricketer, Rahul Dravid was one of the few sportsperson who was admired not only for their game but also look and personality. His cute smile and guy-next-door-look was enough to make girls fall for him. He definitely bowled over his female fans with his style and charisma.

4. Aamir Khan –
Aamir Khan made his Bollywood debut quite early but it was only after the movie 'Qayamat Se Qayamat Tak' that he rocked the nation with his striking looks and persona. He ruled the heart of every teenage girl and not much has changed since then.

5. Jas Arora –
Who does not remember that cute guy featured in the album 'Gur Naal Ishq Mitha' with Malaika Arora? Yes, we are talking about Jas Arora, a model turned actor who made girls go 'whoa' during the 90's.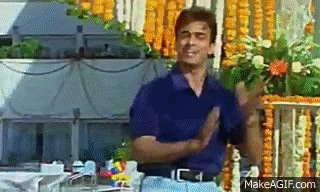 6. Aryan Vaid –
Even before being crowned with Grasim Mr. International and Mr. India title, Aryan Vaid grabbed eyeballs. His God-like physique and looks was enough for any girl to fall for him.

7. Pravin Dabas –
Pravin Dabas, a model-turned-actor stole away the heart of many girls with his acting stunt in the movie 'Monsoon Wedding'. A fitness freak, he still has maintained his good lucks and even ventured in the field of direction.

8. Saif Ali Khan –
Saif Ali Khan was Bollywood's very own Prince Charming. Even though his movies did not do well during the 90's he was still the heartthrob of the nation. His acting skills have been refined with years and so has his looks.

9. Marc Robinson –
When you talk about 90's crushes, you cannot miss out on Marc Robinson. A top model and a VJ for Channel V, he always remained our forever crush. His personality has just got better with years.

10. Rahul Khanna –
Rahul Khanna was the most charming, stylish and eloquent man of the decade. His killer looks can still make girls week at their knees.

Even after all these years, these guys will always remain our first crushes.
(Visited 309 times, 1 visits today)