Baba Ramdev has always been in news. He is the man who enlightened the world with the benefits of Yoga and other spiritual practices and was adorned with the title of 'Yoga Guru'. Recently Baba Ramdev has created quite a stir in the entertainment industry when the news got viral about him judging a unique bhajan reality show. He will be co-judging the show with Sonakshi Sinha, Kanika Kapoor and Shekhar Ravjiani. The shooting for this show has already begun and very soon it will be seen on your television screen.
Well, if you think this was the end to Baba Ramdev gigs, the revelations in this post could be shocking for you. According to the sources in the entertainment industry, Baba Ramdev is all set to make his Bollywood debut. Yes, you read that right. The spiritual leader who taught the world about embracing simplicity in one's deeds and lifestyle will be very soon venturing into films. We all know about the dark realities and complexities of Bollywood and yet the Guru, who always preached to shun vices, is on the verge of turning into an entertainer himself.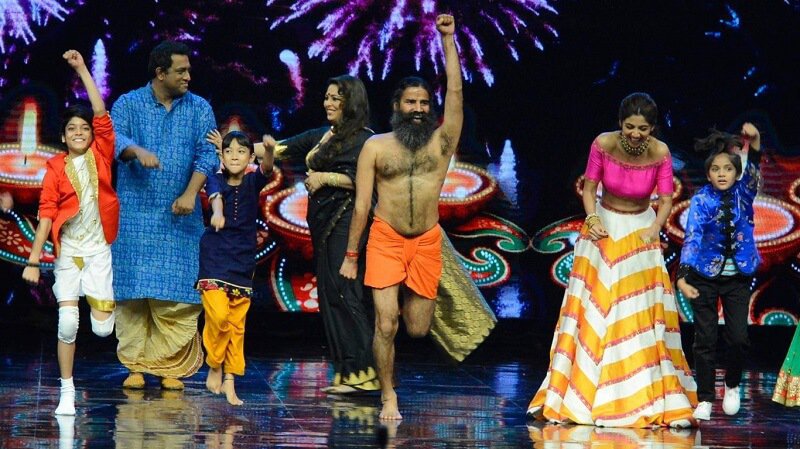 If your mind has already started dancing on the visualization of Baba Ramdev romanticizing in the Swiss Alps, let me cut the story short. The movie is a patriotic type and titled as 'Yeh Hai India'. Wondering what the storyline is is. I will surely feed your anticipation. This movie will be about a young NRI settled in the UK who always perceived India as a poor and populated country. However, the success of Mars Mission and cricket craze changed a bit of these. What role does Baba Ramdev play in the movie? How did he influence the thoughts of this NRI? You definitely have to wait for the movie to hit the silver screen to find all this.
The news about Baba Ramdev's foray into films is funny and shocking at the same time. All we can do is just hope that even in his films; Ramdev will employ his crazy antics to keep the audiences entertained.
Who's starring opposite him, well that's definitely going to create breaking news? Stay hooked for more updates.