7 Medical Chamatkaar In Bollywood Movies That Will Make You Dumb Struck
In the medical field, we definitely have made incredible progress but the medical chamatkaars that happen in the Bollywood movies…
---
In the medical field, we definitely have made incredible progress but the medical chamatkaars that happen in the Bollywood movies is fuckin advanced for even mortals like us. Being a hardcore Bollywood fan, some of the scenes shown in the movies are beyond logical reasoning and they only leave you dumb struck. It's only in Bollywood that the most unthinkable can happen and it has taken medical science to another level. Don't you believe in what I am saying? Take a look at these 7 medical chamatkaar in Bollywood movies and judge for yourself.
1. Hitting the steps of a temple can bring back your eyesight – Amar Akhbar & Anthony
Yes, you read it right. Remember the scene in Amar Akhbar & Anthony (1977) when Nirupa Roy, the iconic Maa of the cinema got her eye sight back when after falling her head hit on the steps of the Sai Baba Temple. Period.
2. Brain tumor can disappear during a fighting scene – Jimmy
When the hero of the movie, Mahaakshay Chakraborty gets to know about his brain tumor, things suddenly change in his life and he becomes responsible towards his duties. The miracle? Well during an intense fighting scene he is hot severely on his head and his brain tumor vanishes. Instead of fighting, the hero must be thankful to the villain!
3. A person's life can be saved by striking a deal with God – Jab Tak Hai Jaan
I know its 21st century and what you just read will make you shake your head in disbelief, but this is one of the chamatkaars in Hindi cinema. Meera (Kartina Kaif) believes she brought bad luck to her man (Shah Rukh Khan) after he meets a fatal injury. She vows to God to never see him again if he recovers and yes, it actually worked.
4. Love can bring your life back – Dil Ne Jise Apna Kaha
When Bhoomika Chawla gets the heart of Salman's lover she for unexplained reason also falls in love with the same man. The chamatkaar does no end here. When Bhoomika suffer a fatal heart attack, the power of Salman's love brings her back from the dead. Faint!!!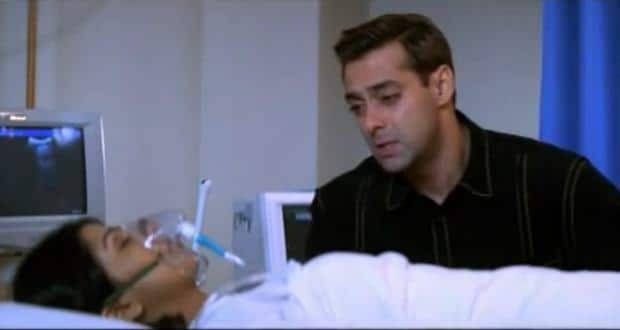 5. Jhappis can cure paralysis when even doctors can't – Munna Bhai MBBS
We surely loved Munna Bhai and his jaddu ki jhappis. But what left us startled was when Anand, the subject who did not feel anything, responded miraculously when Munna was disheartened and set to leave the medical college for good. What shaving off Anand's beard had to with his recovery is a different story altogether.
6. Brain hemorrhage can be cured with rain bath – Rowdy Rathore
This one is epic. Akshay Kumar plays a cop in the movie suffering from the brain hemorrhage that causes him to faint anywhere, anytime. How will be fighting goons now? Akshay needs no medical help, only a few drops of rain can wake him up and give enough power to even beat up dozen people.
7. Patriotism can cure heart attack – Clerk
Ashok Kumar was a die-hard patriot (in the truest sense) and when he suffered from a heart attack he did not have enough money to even summon a doctor. How could his life be saved? His sons just needed two AA batteries to play patriotic songs on the radio and Ashok Kumar not only recovers from the heart attack, he marches out singing Desh bhakti geet. What are we left to say? Only Vande Matram!
All said and done, Bollywood movies can never stop amusing us.
Even after witnessing these unbelievable medical practices, I only manage to get a good laugh but my love for Bollywood remains undeterred.
(Visited 88 times, 1 visits today)