5 Reasons why we always love to watch 'Zindagi Naa Milegi Dobara'
There are some Bollywood movies that touch your inner cord and leave a lasting impression on your mind. One such…
---
There are some Bollywood movies that touch your inner cord and leave a lasting impression on your mind. One such movie was 'Zindagi Naa Milegi Dobara' released in July 2011. This movie was directed by Zoya Akhtar and had a promising star cast that includes some of the prominent names of the industry like Hrithik Roshan, Farhan Akhtar, Abhay Deol and Katrina Kaif.
'Zindagi Naa Milegi Dobara' or ZNMD is one of the few Hindi movies that you never get bored of watching. Here are the top 5 reasons why you can't stop watching 'Zindagi Naa Milegi Dobara'.
1. The equation between the three friends –
They played pranks, fought, argued and even abused each other, but in the end their friendship is what that brought them close to each other. We truly loved how these friends shared their emotional moments and stood by each other in the end. True friendships indeed last forever!

2. Farhan Akhtar as 'Imraan Habib' –
While all the three lead artists played their characters very well, we undoubtedly adored Farhan in the hole of 'Imraan'. His impeccable comic timing, charm, poignant poetry and emotional quotient made him an absolute delight watching on the big screen. Total thumbs up to the casting director of the film.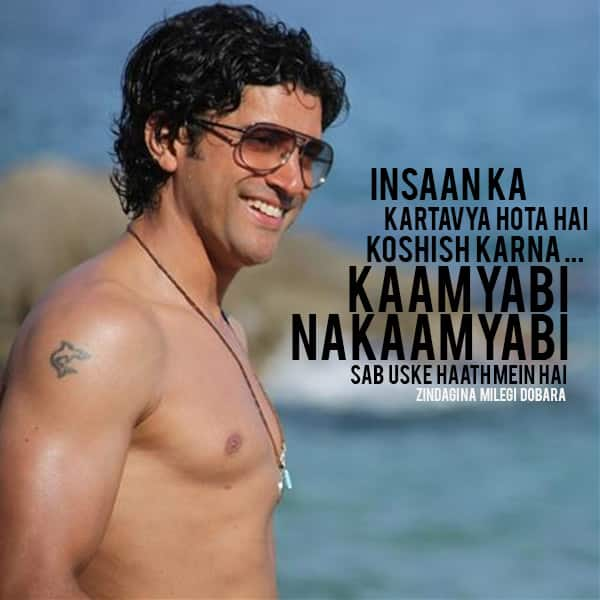 3. The chemistry between Hrithik and Katrina –
This love story that popped up in the midst of all boys trip surely set the screen on fire. The scene where Katrina tells Hrithik 'Mujhe afsoos karna nahin aata' and kisses him has surely given courage to lot of couples to freely express their love.

4. The soulful poetry
The poems recited in the movie 'Zindagi Naa Milegi Dobara' is so realistic that you love listening to them over the over again. The lyrics of all the poetry are extremely motivational and heart touching.

5. The adventure sports scenes –
Right from sky diving and underwater diving to Tomatina and Sam Fermin Festival we loved watching it to the bits. Moreover this movie also taught us that it's never too late to overcome your fears. We actually felt more alive and thrilled watching these characters overcome their fears.

'Zindagi Naa Milegi Dobara' is indeed a timeless watch and a phenomenal movie.
Even after all these years it is also on my personal favorite list. Happy Watching!
(Visited 248 times, 1 visits today)